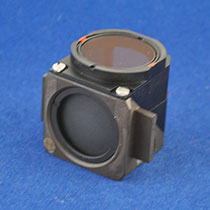 SOLD
ITEM CODE: C121
Shipping Cost: To be determined
Description:
Part Number: 424921-9901-000.
Analyzer module DIC ACR P&C for Zeiss Microscopes. For transmitted light, optimized for DIC in transmitted light, not suitable for polarization.
Zeiss List Price: USD $476.
Compatibility: This is the P&C module version that fits a variety of newer models. The Zeiss website shows it was made for only the newer models, however, it probably can be used on the older P&C units. Refer to the file for the full compatibility list.
Condition:
Unable to detect any signs of usage. In excellent like-new condition. We guarantee this will work properly.
Includes plastic cube holder (not shown).