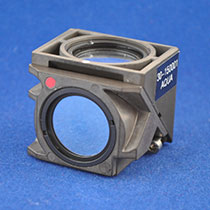 ITEM CODE: C118
Shipping Cost: To be determined
SOLD
Description:
AQUA Reflector Module Cube for Zeiss Axioskop2 Microscope.
Cube Markings and Part Numbers: 452888 and AQUA 30-150001 and C23887.
Compatibility:
This is the reflector module version that fits the older models such as Axioskop-2. It will not fit the newer models that need the P&C modules.
Condition:
Appears only slightly used. We guarantee this will work properly.
Includes plastic cube holder (not shown).