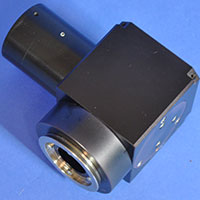 Description:
Beam Splitter to add two Light Sources.
Usually used to add one HBO Mercury and one Xenon lamp to the back of the microscope.
Pulled from a Zeiss Axiovert 200 microscope set up for PALM. One part was positioned facing downward for a below the table light source.
Condition: Used.