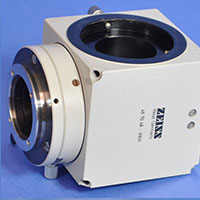 Description:
Beam Splitter to add two Light Sources.
Usually used to add one HBO Mercury and one Xenon lamp to the back of the microscope.
Mirror is good. Often times these mirrors have corrosion and rust, but this one does not.
For Zeiss Fluorescence Gray-line style Microscopes. Example is Zeiss PhotoMicroscope.
Part 467048-9901
Internal iris diaphragm.
Made in West Germany.
Condition: Used. Mirror rotates well.