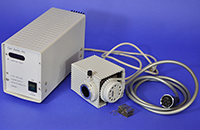 Description:
Zeiss power supply part number 910235. STAB ARCLAMP. 100 W DC Mercury.
Lamp housing is marked XBO 75 W/2 which would mean Xenon. That is not Mercury. I am unsure of the discrepancy.
This has the smaller diameter mount for the older style Gray Line microscopes. It does not fit the newer Axio line.
There is no bulb.
We are unable to test this equipment. There may be parts missing. It may not work properly.
Condition: If you are not satisfied with the purchase, you can return it to us.