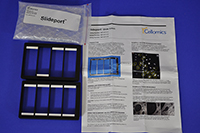 Description:
Cellomics Slideport Slide Insert
Stage Adapter Plate.
The price is for quantity two, exactly as shown in the photograph.
The Slideport enables microscopists to image typical microscope slides on any microplate compatible reader such as the Cellomics ArrayScan and KineticScan HCS Readers.
This is compatible with a various range of sample types such as fixed and live cells, tissue sections, tissue microarrays, and beads, etc.
Condition: New.