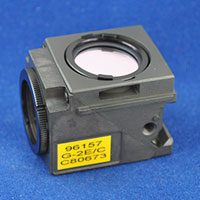 ITEM CODE: C162
Shipping Cost: To be determined
SOLD
Description: Chroma 96157 G-2E/C TRITC Fluorescence Filter Cube for Nikon Microscope.
Cube Markings: 96157, G-2E/C, C80673.
Includes filter set plus blank cube.
The blank cube alone is sold for $398 from Chroma.
Info about the blank cube: Nikon Eclipse/Quadfluor, Part No: 91001.
This metal cube is also compatible with Nikon's E400, E600, E800 and E1000 upright microscopes, as well as the TE200 and TE300 inverted Eclipse microscopes. Please note that this Eclipse/Quadfluor cube is NOT intended for use in Nikon's Eclipse TE2000 or TI2000 microscopes and should not be confused with the 91020 cube. Users should also note that early versions of Diaphot microscopes used our 91000 (18mm) cubes, but many have been converted in order to be consistent with all later Diaphot models, which use this 91001 cube.
Condition:
Unable to detect any signs of usage. In excellent like-new condition. We guarantee this will work properly.
Comes with original factory packaging.