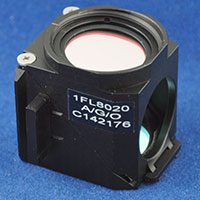 ITEM CODE: C171
Shipping Cost: To be determined
Description:
Chroma Abbott Vysis Aqua Green Orange Fluorescence Filter in P&C Cube for Zeiss Microscope.
Triple Band Filter: Aqua Green Orange.
Made by Chroma. Sold by Abbott Molecular for FISH.
Cube Markings: 1FL8020, A/G/O, C142176
Includes both filter set and blank cube.
Zeiss P&C cube.
Factory Website Link: https://www.abbottmolecular.com/us/microscope-filters.html#MicroscopeFilters
Compatibility: This is the P&C module version that fits the newer models such as AxioVert 200, AxioPlan-2, Axio Observer, Axio Imager, etc. There is an older module that requires screws to mount. These two types of modules are not interchangeable.
Condition: Slight sign of usage on excitation filter only so we are calling this used. Filters are in great condition. We guarantee this will work properly.