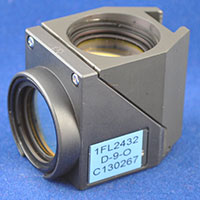 ITEM CODE: C164
Shipping Cost: To be determined
SOLD
Description:
Chroma Abbott Vysis Dapi Orange Fluorescence Filter Cube for Olympus BX Microscope.
Abbott/Vysis set: DAPI/9-Orange (NB).
Made by Chroma. Sold by Abbott Molecular for FISH.
Cube Markings: 1FL2432, D-9-O, C130267
Includes both filter set and blank cube.
The blank cube is sold for $441 from Olympus and also from Chroma.
Factory Website Link: https://www.semrock.com/setdetails.aspx?id=2773
Factory Description:
The DAPI/9-Orange (NB) filter set is designed to excite and transmit SpectrumOrange and the DAPI counterstain fluorescence simultaneously. This filter set is designed to minimize autofluorescence from paraffin-embedded specimens and is recommended for the PathVysion HER-2 DNA Assay. This filter is useful when the nuclear and chromosomal DNA, counterstained with DAPI, and the SpectrumOrange fluorophore must be viewed concurrently.
Compatibility:
Cube is the narrow style for the 6-position turret on the Olympus  BX2 and IX2 series (ex. BX41/BX51/IX71, etc) and also retrofits the older 4-position  turret on the BX and IX series (ex. BX40/BX50/BX60/IX50/IX70, etc).  It will not fit the BX3/IX3 series (ex. BX43/BX53/IX73 etc).
Condition:
It's hard to tell, but there appears to be some slight sign of usage on the excitor filter only so we are calling this used. The filters are all in good shape. We guarantee this will work properly.
Comes with original factory packaging.