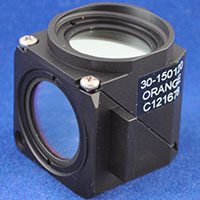 ITEM CODE: C172
Shipping Cost: To be determined
Description:
Chroma Abbott Vysis Orange Fluorescence Filter in P&C Cube for Zeiss Microscope.
Abbott/Vysis single band set: Orange.
Made by Chroma. Sold by Abbott Molecular for FISH.
Cube Markings: 30-150120, Orange, C121678
Includes both filter set and blank cube.
Zeiss P&C cube.
Factory Website Link: https://www.abbottmolecular.com/us/microscope-filters.html#MicroscopeFilters
Factory Description:
The Orange filter set is designed to excite and transmit SpectrumOrange™ fluorescence. All of the Vysis SpectrumOrange labeled DNA FISH probes can be viewed, analyzed, and imaged using this filter set. The SpectrumRed™ fluorophore will be visible using this filter set, but will be dim.
Compatibility: This is the P&C module version that fits the newer models such as AxioVert 200, AxioPlan-2, Axio Observer, Axio Imager, etc. There is an older module that requires screws to mount. These two types of modules are not interchangeable.
Condition: Unable to detect any signs of usage. In excellent like-new condition. We guarantee this will work properly.