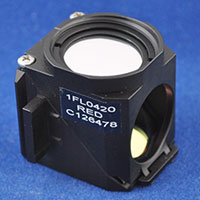 ITEM CODE: C169
Shipping Cost: To be determined
SOLD
Description:
Chroma Abbott Vysis RED Fluorescence Filter in P&C Cube for Zeiss Microscope.
Abbott/Vysis set: RED.
Made by Chroma. Sold by Abbott Molecular for FISH.
Cube Markings: 1FL0420, RED, C126478
Includes both filter set and blank cube.
Zeiss P&C cube.
Factory Website Link: https://www.abbottmolecular.com/us/microscope-filters.html#MicroscopeFilters
Factory Description:
The Red filter set is designed to excite and transmit SpectrumRed fluorescence. This filter set can be used to view, analyze, and image SpectrumRed labeled probes, or for TexasRed labeled DNA FISH probes that are available from other probe manufacturers.
The SpectrumRed filter set is not recommended for viewing SpectrumOrange labeled probes.
Compatibility: This is the P&C module version that fits the newer models such as AxioVert 200, AxioPlan-2, Axio Observer, Axio Imager, etc. There is an older module that requires screws to mount. These two types of modules are not interchangeable.
Condition: Very slight sign of usage on excitation filter only so we are calling this used. Filters are in great condition. We guarantee this will work properly.