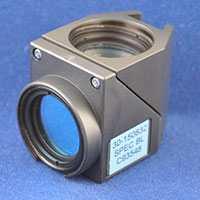 ITEM CODE: C167
Shipping Cost: To be determined
SOLD
Description:
Chroma Abbott Vysis Spectrum Blue Fluorescence Filter Cube for Olympus BX Microscope.
Abbott/Vysis set: Spectrum Blue.
Made by Chroma. Sold by Abbott Molecular for FISH.
Cube Markings:
30-150832, SPEC BL, C93548
1FL0832 (marked on box, not on cube)
Includes both filter set and blank cube.
The blank cube is sold for $441 from Olympus and also from Chroma.
Factory Website Link: https://www.abbottmolecular.com/us/microscope-filters.html#MicroscopeFilters
Factory Description:
The Blue filter set is designed to excite and transmit SpectrumBlue™ fluorescence and is useful when viewing the SpectrumBlueTM fluorophore alone.DAPI fluorescence will also be visible with this filter set. SpectrumAqua fluorescence will be visible through the Blue filter set, but will be dim. In order to view the SpectrumBlue and SpectrumAqua fluorophores simultaneously, the Aqua/Blue dual bandpass filter set should be used.
Compatibility: Cube is the narrow style for the 6-position turret on the Olympus BX2 and IX2 series (ex. BX41/BX51/IX71, etc) and also retrofits the older 4-position turret on the BX and IX series (ex. BX40/BX50/BX60/IX50/IX70, etc). It will not fit the BX3/IX3 series (ex. BX43/BX53/IX73 etc).
Condition:
Unable to detect any signs of usage. In excellent like-new condition. We guarantee this will work properly.
Comes with original factory packaging.