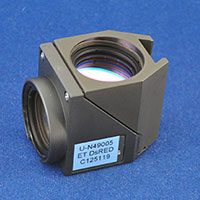 SOLD
ITEM CODE: C109
Shipping Cost: To be determined
Description: Fluorescence Filter Cube for Olympus BX Microscope.
Specifications:
Set Number: 49005
ET – DSRed (TRITC/Cy3)
Made by Chroma.
Excitator: ET545/30x
Emissions: ET620/60m
Beamsplitter: T570 LP
Link to manufacture's website: https://www.chroma.com/products/sets/49005-et-dsred-tritc-cy3
Cube Markings: U-N49005; C125119.
Chroma unmounted filter set (w/o cube) price $825. This ad includes the cube.
Coating: Sputter/Hard Coated. This has a lifetime guarantee by Chroma!
Typical Application: Widefield Microscopy
Compatibility: Cube is the narrow style for the 6-position turret on the Olympus BX2 and IX2 series (ex. BX41/BX51/IX71, etc) and also retrofits the older 4-position turret on the BX and IX series (ex. BX40/BX50/BX60/IX50/IX70, etc). It will not fit the BX3/IX3 series (ex. BX43/BX53/IX73 etc).
Condition:
Unable to detect any signs of usage. In excellent like-new condition. We guarantee this will work properly.
Includes plastic cube holder (not shown).