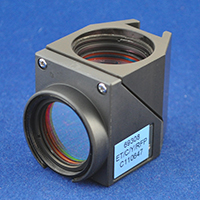 ITEM CODE: C112
Shipping Cost: To be determined
SOLD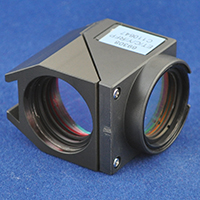 Description: Fluorescence Filter Cube for Olympus BX Microscope.
Specifications:
Set Number: 69308
ECFP/EYFP/mCherry
Made by Chroma.
Excitor: ET500/20x
Emission: ET535/30m
Beamsplitter: T515 LP
Note: Omega's page shows this as having 3 exciters. I assume they are on three separate excitation filters. This auction item only has one exciter filter. I assume the other two are missing. But it could be they are all superimposed on the same filter. More research would need to be done on this. Also, the physical filter could be inspected and read.
Link to manufacture's website: https://www.chroma.com/products/sets/49003-et-eyfp
Cube Markings:
ET/C/Y/RFP; C110647.
Chroma unmounted filter set (w/o cube) price $1475. This ad includes the cube.
Coating: Sputter/Hard Coated. This has a lifetime guarantee by Chroma!
Typical Application: Widefield Microscopy
Compatibility: Cube is the narrow style for the 6-position turret on the Olympus BX2 and IX2 series (ex. BX41/BX51/IX71, etc) and also retrofits the older 4-position turret on the BX and IX series (ex. BX40/BX50/BX60/IX50/IX70, etc). It will not fit the BX3/IX3 series (ex. BX43/BX53/IX73 etc).
Condition:
Unable to detect any signs of usage. In excellent like-new condition. We guarantee this will work properly.
Comes in original Olympus plastic filter cube holder.