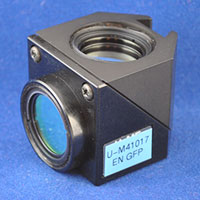 SOLD
ITEM CODE: C150
Shipping Cost: To be determined
Description: Chroma U-M41017 Endow GFP/EGFP Bandpass Fluorescence Filter Cube for Olympus BX Microscope.
Specifications:
Excitor: 470/40 nm
Emitter: 525/50 nm Band Pass
BeamSplitter: 495nm
Cube Markings: U-M41017 EN GFP, C-8306.
Filter Set Price New (without blank cube): $1020. Item is discontinued.
We are including the blank cube which is sold for $441 from Olympus and also from Chroma.
Factory Website Link: https://www.chroma.com/products/sets/41017-endow-gfp-egfp-bandpass
Factory Description:
This is the recommended filter set for the newer S65T GFP mutants. It is also recommended for wtGFP for which it was originally designed.
Compatibility: Cube is the wider style for the 4-position turret on the Olympus BX and IX series (ex. BX40/BX50/IX50/IX70, etc). It can fit the newer 6-position turret on the BX2 and IX2 series (ex. BX41/BX51/BX61/IX51/IX71, etc), but it is too wide to fit 6 cubes into the turret. It will not fit the BX3/IX3 series (ex. BX43/BX53/IX73 etc).
Condition: Unable to detect any signs of usage. In excellent like-new condition. We guarantee this will work properly.