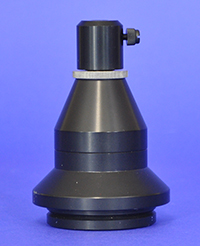 Description:
Collimating Adapter.
This adapter connects the microscope to the Liquid light guide that goes to the Metal Halide illuminator.
I am unsure of which microscope this will fit. It does not fit my Zeiss or Olympus. The diameter on the adapter is too large.
It does not have any markings so may be an OEM product.
Condition: Appears to be in good condition. You can return this if not satisfied.