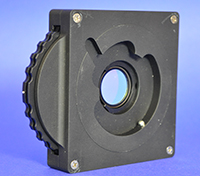 Description:
Filter Turret for IX70 IX71 Microscope Head.

Settings: Clear (w/lens), Purple, Green, Red, Open (no filter).

This is quite a rare Item.

This allows different colored filters to be inserted just before the microscope head..

The filters are on a Rotary turret.

This came off of an IX71 microscope. It fit between the BI90 head and the frame.

This may also fit upright models but I am not sure.
Condition: Used in good condition.