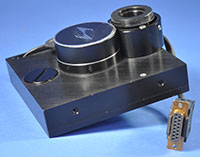 ITEM CODE: A501
Shipping Cost: To be determined
Description:
This Light Source and everything included are Brand New . The bulb has not even been installed yet. Listing Includes power supply, bulb, adapter, light guide and manual CD.
The adapter to match the microscope flange is not included. This needs to be matched up for the particular brand and model of fluorescence microscope that it is attaching to.