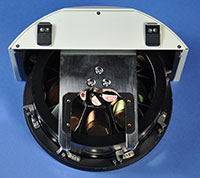 ITEM CODE: A180
Shipping Cost: To be determined
SOLD
Description:
Fluorescence microscope filter cube turret with eight filters.
This rotates fine. Turret is in great condition. Filters do show signs of usage.
This came out of a lab that used some expensive Olympus microscopes. But I don't see the Olympus marking on it. So I'm unsure of which model it goes with. Please email me and inform me if you know the model. Knowing this lab, it certainly could not be a cheap Chinese made. Plus, I can tell from the quality, this is not from China. We sell the Chinese junk, so we know the difference.