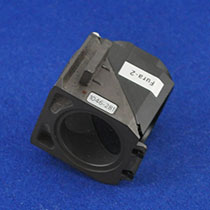 ITEM CODE: C135
Shipping Cost: To be determined
Description: Fluorescence filter Cube for Zeiss Axio series Microscope.
Specifications:
Fura-2
This filter set does not have an excitation filter. The exciter filter is often placed on a separate filter wheel at the back of the frame.
Compatibility: This is the P&C module version that fits the newer models such as AxioVert 200, AxioPlan-2, Axio Observer, Axio Imager, etc. There is an older module that requires screws to mount. These two types of modules are not interchangeable.
Condition:
Unable to detect any signs of usage. In excellent like-new condition. We guarantee this will work properly.
Includes plastic cube holder (not shown).