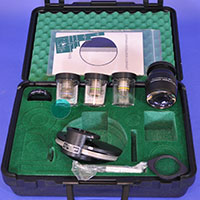 ITEM CODE: A406
Shipping Cost: Free Shipping
Description:
Hoffman Modulation Contrast Condenser
Includes Olympus Microscope Objectives (modified for the HMC)
Includes Polarizer.
This clearly has Olympus objectives, but we're not sure if the G3 condenser fits Olympus. I see some online examples of this being used on Nikon products.
Condition: New.