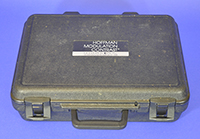 Description:
Hoffman Modulation Contrast Microscope Condenser
Model G5.
Working distance 40 mm.
Numerical aperture 0.6.
Includes polarizer.
Includes HMC contrast controller.
Includes objective lenses:
Nikon modified objective for HMC. 40x LWD 0.5 N.A. Infinity. 0-2mm thickness adjustment correction collar.
Olympus modified objective for HMC. 10x.
I am not sure which microscope model this mounts to. We are selling it as it came to us.
Has only one annuli as shown in the photos. All of the other spaces are empty.
Includes pelican carrying case.
Condition: We are selling this for parts. Appears to be in good condition. But needs more parts and objectives. You can return this if not satisfied.