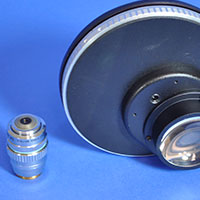 Description:
Hoffman Modulation Contrast Condenser
40x LWD HMC Microscope Objective
HMC 40X LWD 0.5 N.A.
160mm Tube Length
0-2mm Correction Collar
Condenser with 3 settings: two sizes of ring annuli, one slit annuli, and one brightfield setting.
Condition: Condenser lenses look great. Objective looks rough on the metal, but lens is fine.