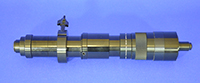 Description:
Infinity Isco-Optic CFM Continuously Focusable C-Mount Video Microscope.
Includes C-mount adapter on one end for a camera to mount to.
Includes objective lens on the other end.
The lower knurled area is a focusing ring.
We are unable to test this equipment. It may not work properly and be missing something.
Condition: If you are not satisfied with the purchase, you can return it to us.