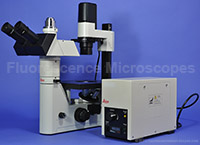 SOLD

MODEL: Leica DMIL
ITEM CODE: 801
Shipping Cost: To be determined
Fluorescence Illuminator:
Type EL 6000 Fiber Optic Illuminator.
External Box containing lamp and power supply for the fluorescent system.
Input: 100-240 VAC. 50-60 Hz.
Marked: Leica Microsystems CMS GmbH. Made in Germany.
CE Certification
Fiber optic cable output. This eliminates the need for centering the bulb in a normal lamp housing.
Fluorescence Dichroic Filters:
3-Place cube with two filters and one open space.
The open place is best used for phase contrast and brightfield microscopy.
Filter Number 1: GFP
Blue excitation light.
Excitation Filter: BP 470/40
Dichromatic Mirror: 500
Suppression Filter: BP 525/50
GFP is blue fluorescence filter for viewing green color.
Filter Number 2: N2.1
Green excitation light.
Excitation Filter: BP 515-560 nm
Dichromatic Mirror: 580 nm
Suppression Filter: LP 590 nm
N2.1 is green fluorescence filter for viewing red color.
Both of these filters appear to be in excellent condition.
Objectives:
Quadruple (4-place) Nosepiece.
5x: N Plan 5x/0.12. Infinity/-/A
10x: HI Plan I 10x/0.22 PH1, Infinity/-. #506271, #345HG/01. (phase)
20x: HCX PL Fluotar L 20x/0.40 Corr PH1, Infinity/0-2/C. #506243, #D2HI/03. Correction collar 0-2mm. Marked "Leica Germany". (Long working distance Plan-SemiApochromat, phase)(Harmonic Components, Universal application potential)
40x: N Plan L 40x/0.55 Corr PH2, Infinity/0-2/C. #506219, #T1HG/00. Correction collar 0-2mm. Marked "Leica Germany". (Long working distance planachromat, phase)
Viewing magnifications in eyepiece: 50x, 100x, 200x, 400x.
Brightfield and Phase Contrast:
Transmitted Illumination source 6V 35W (max).
Powered internally (not by separate power supply).
Daylight color corrected light filter: DLF
Iris Diaphragm.
Phase Contrast Slider. Positions for: Brightfield, 10 Phase, 20 Phase, 40 Phase. Leica #521234
Condenser marked 0.35, S55, Leica part #521230.
Integrated Modulation Contrast:
Integrated modulation contrast is a method of using oblique illumination to enhance the visibility of living cells. This microscopy technique yields enhances relief type images, like a three dimensional view. This is similar to differential interference contrast and Hoffman modulation contrast.
Reference about Interference Modulation Contrast (IMC): http://www.leica-microsystems.com/science-lab/integrated-modulation-contrast-imc/
IMC slit diaphragm slide (Leica part number 521234). Marked IMC / BF / 10 20 40.
IMC Modulator (Leica part number 521234). Marked IMC / BF.
Trinocular Head:
Trinocular Photography Port.
Includes standard c-mount with 0.70x reduction lens built inside.
Three-Position Head for: 100 percent light to viewing eyepieces, 50/50 light to eyepieces/camera, and 100 percent light to camera port.
HC Plan 10x/20 Eyepieces. High eyepoint. One eyepiece has focusing adjustment. Each eyepiece has rubber eyeguards to block out stray light for optimal viewing of fluorescent stains.
Frame Markings:
Type: 090-135.002.
UL and CE Certification
Other Information:
Power Cord. This is supplied but not shown in the images.
Condition:
This is a reconditioned microscope and is in excellent working condition.
User Manual and Instructions:
Click this link: LEICA DM IL Manual
Click this link: LEICA DM IL Brochure
---
TERMS AND CONDITIONS:
Payment Method:
We generally accept purchase orders from government, educational, and industrial facilities. For some orders, we accept credit cards. We also accept bank wire (telegraphic transfers) transfers. Contact us for details.
Shipping Costs:
Shipping costs vary. Please contact us and we will review your location and the cost to ship.
Money Back Guarantee:
We guarantee you will be satisfied with your purchase. If in the unlikely event you are not satisfied and want to return your item, please contact us within 10 days of receiving it. We will then arrange to get you an RMA number and details about how to return it. Shipping costs are non-refundable. We have no restocking fees. We will refund the full price of the equipment.
Warranty:
We warranty all our reconditioned products to be in good working order. We will repair or replace equipment at no charge, during our 90 day warranty period. We have a one year warranty period for labor.
Warning:
UV light and Mercury Bulbs are Dangerous! YOU MUST Read BEFORE purchasing!
Click this link.