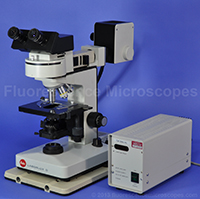 SOLD
MODEL: Leitz LaborLux D
ITEM CODE: 511
Shipping Cost: To be determined
Special Features:
Five-Place Nosepiece (rotation is normal and smooth with good clean stops).
Low Position XY Stage Movement is functionally normal. Right hand movement.
Halogen Transmitted Light Source. 6V-20W. Located in rear mounted external housing.
Koehler Illumination Field Diaphragm.
Binocular Head.
Eyepiece Pair: PeriPlan 10X/18 M. High Eyepoint (okay to wear eyeglasses).
Diopter adjustment on each eyetube.
Flip-Out Condenser Lens. This is good if a lower power objective lens needs to be installed.
Objectives (all marked Leitz Wetzlar Germany):
Phaco1 10x/0.25, 160/-. (has phase contrast ring inside)
25x/0.50, 170/0.17.
Fluoreszenz 40x/.75, 160/0.17.
Magnifications: 100x, 250x, 400x.
Fluorescence Microscopy:
Filter cube holder model #513514.
Includes Block "I2/3" Cube for fluorescence. Model 513604.
Excitating Range: Blue (FITC).
Excitation Filter: Band Pass 450-490 nm.
Dichroic Beam Splitting Mirror: RKP 510 nm.
Barrier (emission) Filter: Long Pass 515 nm.
Includes Block "N2" Cube for fluorescence. Model 513609.
Excitation color range: Green
Excitation filter: BP 515-560 nm.
Dichroic mirror: 580 nm.
Suppression (Emission) filter: LP 590 long pass.
Includes one more fluorescence filter cube. I didn't take the filters out to read it.
Includes one empty area where a cube can be inserted.
Includes 100W Mercury lamp housing #514662, Type 307-143-004.
Includes the Mercury Lamp Bulb (100W).
Zeiss Mercury Lamp HBO 100W Power Supply. This power supply is manufactured by LEP. They also supplied the same power supplies to Zeiss and with the Zeiss name marked alongside the LEP manufacturer name.
General Notes:
Frame is marked: Ernst Leitz Wetzlar GMBH. Type 020-435.037. 512974.
Made in Germany.
Voltage: 110V/120-130V / 220-230V / 240-250V.
The fine and coarse focusing was tested and performed excellently.
Power Cord. This is supplied but not shown in the images.
Condition:
This is a used microscope and sold in as-is condition.
The fluorescence system was NOT powered up and tested.
UV light and Mercury Bulbs are Dangerous! YOU MUST Read BEFORE purchasing! Click this link.
Safe With UV Light