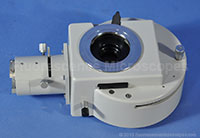 SOLD
ITEM CODE: A103
Shipping Cost: To be determined
Description:
For Parts. No guarantee.
Leitz Wetzlar Fluorescence turret for Microscope. I have no idea if this works or not. Sold as-is. What you see is what you get.
This is the illumination pathway for fluorescence or incident light
Four Positions for filter cubes.
Slider filter holder on the top.
Field iris diaphragm.
Was fitted to a Dialux 20 stand but will fit others.
Filter cubes and filters not included.
The HBO lamp house, power supply, and filters are all not included.
Overall this is a good working illuminator.
Stamped with the marking: Leitz Wetzler Germany.
Includes Parts ONLY as shown in photos.