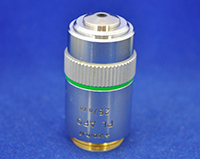 ITEM CODE: L477
Shipping Cost: Free Shipping
Description:
Leitz Wetzlar Pl Apo 25x / 0.70. 160 / 0.17
Plan optics for flat field of view.
Apochromatic glass for optimal color correction. This is the highest grade color correction.
Part number 519896.
Made in Germany.
Microscope Objective
Condition: Used, in good condition.