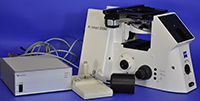 Description:
LEP LUDL Bio Point Motorized Stage System with Z focus Drive.

LEP LUDL Joystick Part #73000360 (MAC2 XY Joystick).

LEP LUDL Controller (power box) Part #73B00000.

Controller made in USA.

Worldwide voltage 90 to 240 VAC, 50 to 60 Hz, 100 W.

Includes RS-232 port for connection to a computer.

We do not have any software for this.

You would need to contact the factory for the software. The software is probably needed for the Z focus. We were unable to test the Z focus or the computer connectivity.

No computer is necessary for the X and Y stage movement.

Fits Zeiss Axiovert 200M Microscope.  Includes additional mounting bracket hardware for attaching to a different microscope frame. It is not known which frame that additional bracket is used for. When using the Axiovert 200 M, the bracket is not needed.

Includes power cord (not shown in photos).

Does not include Axiovert 200M frame. This is only shown to demonstrate how the stage fits.

Does not include a stage adapter plate. We have a variety of adapters available for 96 well plates, Petri dishes, and glass slides. Please let us know what you may need. One photograph shows a Zeiss 96 well plate adapter inserted. This is not included. It is only shown to demonstrate that this stage will accept standard Zeiss adapter plates.
Condition: In good working condition. We tested this unit and it properly moves in both the X and Y direction. Movement was smooth. However, we are unable to test the Z microscope focusing.