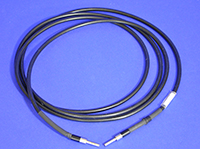 Description:
Liquid Light Guide for Unknown Metal Halide Illuminator.

We checked and it does not fit the X-Cite.

Notice how both ends are the same diameter, which is not the case with the typical X-cite.

Length: 3 m.

Diameter of the end tips: 5 mm.

Stamped on the tip: 380i004

Probably the brand is Lumatec, series 380.
Condition: Unable to test. You can return if not satisfied.