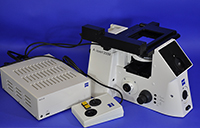 Description:
Marzhauser Wetzlar Motorized Stage.

Part #Scan IM 130×100 DC – 1mm. Article 90-25-422-0000. 43028-9901-000.

With Joystick Controller Part #457433.

Zeiss MCU-28 Motor Control Unit.

Fits Zeiss Axiovert 200M Microscope.

Includes power cord (not shown in photos).

Worldwide Voltage Selectable.

Does not include Axiovert 200M frame. This is only shown to demonstrate how the stage fits.

Does not include a stage adapter plate. We have a variety of adapters available for 96 well plates, Petri dishes, and glass slides. Please let us know what you may need.
Condition: In good working condition. We tested this unit and it properly moves in both the X and Y direction, and with both slow and fast speeds. Movement was smooth.