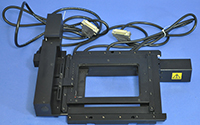 ITEM CODE: A441
Shipping Cost: Free Shipping
SOLD
Description:
Motorized Stage
Brand: Marzhauser Wetzlar
This was taken off a Zeiss Axiovert 200M Inverted Microscope.
Article Number: 90-25-414-0000.
Type: Scan 120×100 Sideport.
Movement: 120 x 100 mm
Does not include a stage adapter plates. We have different versions of stage
adapter plates. Photographs show a universal plate and a clear plate with open hole. Those are only shown to demonstrate what can be added. They are not included.
Condition: Appears to be in good condition.  We are unable to test this equipment. We will guarantee this works or you can return it.