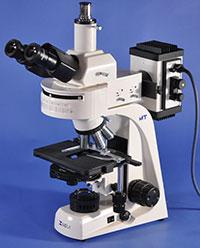 SOLD
MODEL: Meiji MT6200
ITEM CODE: MT6200
Shipping Cost: To be determined
Online prices for this model range about $13,000 to $15,000 new. We can't find any used or refurbished.
With our low price for this reconditioned unit, you can buy a new mercury power supply (around $1100), new bulb (around $100) and still have a huge savings. We can supply brand new Chroma filter sets, better than what Meiji initially installed, for as low as $425/filter. These are hard coated and lifetime Chroma guaranteed filters!
Objective Lenses:
All lenses marked Meiji, Japan.
UPlan 10X/0.25, infinity/0.17mm. F=200. WD 10.67mm. PH1. Phase.
UPlan 20x/0.40, infinity/0.17mm. F=200. WD 7.29MM. PH2. Phase.
UPlan 40x/0.65, infinity/0.17mm. F=200. WD 0.5MM. PH2. Phase.
UPlan 100x/1.25, infinity/0.17mm, F=200. WD 0.23mm. Oil Immersion.PH3. Phase.
APO F 100x/1.25, infinity/0.17mm, F=200. WD 0.19MM. Oil Immersion. (not phase).
Trinocular Viewing Head:
Includes trinocular Photography Port.
Includes 23mm standard phototube adapter.
Attach a camera easily to this port.
Phase Contrast Microscopy:
Includes phase contrast condenser.
Objectives are phase.
Condenser has phase annulus for these settings: PH1, PH2, PH3.
Rotary turret style condenser also has settings for darkfield, brightfield, and closed position.
Numerical aperature of condenser: 1.25 N.A.
Mercury Illumination System:
Six filter cube reflector turret. Maximum of six cubes. Includes three cubes.
Three filter cubes with filters. Condition of filters appears used.
We can provide customized filter sets as per customer's requirements. We are a dealer for Chroma. Let us know if you want to add some new fluorescent dichroic filter sets.
Mercury Lamp Housing.
Does not include mercury bulb.
Missing: Fluorescent Power Supply.
This is probably the correct power supply that needs to be purchased separately: Meiji Techno Model FL-PWJ Power Supply.
This is sold by others for around USD 1100 new.
Here is the link to the manual for it:
Meiji Model FL-PWJ Power Supply for Fluorescence.pdf
General Notes and Specs:
Five place quintuple nosepiece. Holds maximum of five objective lenses.
Mechanical stage with right hand low position XY movement.
Eyepiece Pair: SWH10X/22
Vertical Illuminator for Incident Reflected Fluorescence.
Field stop and aperature stop.
Frame of unit has had some paint touchups.
Frame Markings:
CE certification.
Meiji Techno Co., LTD.
Made in Japan
100-240V, 50/60 Hz.
Transmitted Illuminator: 6V-30W
TERMS AND CONDITIONS:
Payment Method:
We generally accept purchase orders from government, educational, and industrial facilities. We also accept bank wire (telegraphic transfers) transfers. Contact us for details.
Shipping Costs:
Shipping costs vary. Please contact us and we will review your location and the cost to ship.
Sold As Is:
This unit is not covered under any warranty. We guarantee you will get the unit as described in this ad, with all items as shown in the photos.