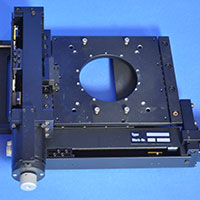 ITEM CODE: A291
Shipping Cost: To be determined
Description:
Motorized Microscope Stage
This fits an upright microscope frame.
I think this came off a Zeiss, but not sure what it will fit. It has four bolts on the bottom. It also has multiple tapped threaded holes where the bolts could be changed to different positions, probably to fit different models. It may be for the Imager series as those require bolting. If you are interested, I can measure the bolt pattern, or you could email us the bolt pattern dimensions on your frame. The older Axioskop series requires bolting, but it does not fit that pattern.
Type: 00244940000
Missing controller and cables.
Condition: Used.