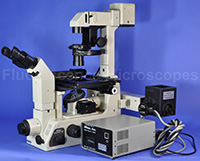 SOLD
MODEL: Nikon Diaphot
ITEM CODE: 504
Shipping Cost: To be determined
Nikon Objective Lenses:
E10x/0.25; 160/-; Ph1. DL.
Plan 20x/0.40; 160/1.2; Ph2. DM. ELWD.
Plan 40x/0.55; 160/0-2.5; Ph3. DM. ELWD. Correction Collar for thickness of petri dish. Nikon #140515.
Total magnifications: 100x, 200x, 400x.
Special Features:
Six-Place Nosepiece (rotation is normal and smooth with good clean stops).
XY Stage Movement: Has motorized stage but with no controller. Knobs can be operated manually by simply turning them to move the X and Y directions.
Halogen Transmitted Light Source. 12V-100W. Power for lamp is supplied from a separate transformer that is NOT included.
Eyepiece Pair: CFWN 10X/22mm.
Diopter on each eyetube for maximum adjustment.
Iris Diaphragm in transmitted light path.
Three filter slots with one having NCB filter installed.
Phase Contrast Microscopy:
Nikon Phase Contrast Condenser Turret. ELWD 0.3.
Phase Settings: Ph1, Ph2, Ph3, and two empty spaces (for brightfield).
All phase annuli are present and functional.
Fluorescence Microscopy:
Includes 100W Mercury lamp housing. Includes the Mercury Lamp (100W).
Nikon HBO 100W External Power Supply (for the mercury lamp) – Model 78591.
Includes filter in mercury light path: ND2 and ND4.
General Notes:
Made in Japan.
The fine and coarse focusing was tested and performed satisfactorily.
Condition:
This is a used microscope and sold in as-is condition.
Warning:
UV light and Mercury Bulbs are Dangerous! YOU MUST Read BEFORE purchasing! Click this link.
Safe With UV Light