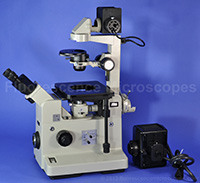 SOLD
MODEL: Nikon Diaphot
ITEM CODE: 505
Shipping Cost: To be determined
Special Features:
Five-Place Nosepiece (rotation is normal and smooth with good clean stops).
Low Position XY Stage Movement is functionally normal. Right hand movement.
Halogen Transmitted Light Source. 12V-50W. Power for lamp is supplied from the microscope and not from a separate transformer.
Eyepiece Pair: CFW10X.
Phase Contrast Microscopy:
Nikon Phase Contrast-2 Condenser Turret. ELWD 0.3
Phase Settings: PhL, Ph1, Ph2, Ph3.
All phase annuli are present and functional.
Fluorescence Microscopy:
Includes B-Cube for fluorescence. Filters typically show a significant amount of burn from the mercury light, but this cube set has exceptionally nice looking filters (excitation, dichroic, emissions). They look new and never used with no burning.
Includes 100W Mercury lamp housing Model LH-M100C-1. Includes the Mercury Lamp (100W).
Missing the external transformer box for the mercury lamp.
There is a broken part on the back fitting that holds the mercury lamp housing. A replacement could easily be made at a machine shop.
General Notes:
Made in Japan.
No objective lenses included.
Halogen transmitted light does not work. The lamp socket has a bad connection.
The fine and coarse focusing was tested and performed satisfactorily.
Power Cord. This is supplied but not shown in the images.
Condition:
This is a used microscope and sold in as-is condition.
Warning:
UV light and Mercury Bulbs are Dangerous! YOU MUST Read BEFORE purchasing! Click this link.
Safe With UV Light