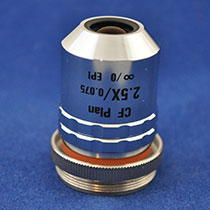 SOLD
ITEM CODE: L108
Shipping Cost: To be determined
Description:
Nikon EPI CF Plan 2.5x /0.075. Infinity/0. Microscope Objective.
Comes with the larger thread size adapter ring. The objective has the normal thread size. Many of the EPI microscopes with brightfield/darkfield for epi, have a larger thread size. This comes with that threaded adapter ring so it can be used on the darkfield nosepiece or a normal nosepiece.
Item is never used. It comes in the original Nikon plastic canister.