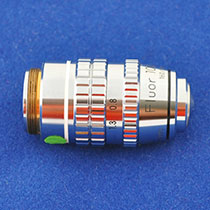 SOLD
ITEM CODE: L122
Shipping Cost: To be determined
Description:
Nikon Fluor 100x /1.30. Oil Immersion. 160/0.17. Microscope Objective
With Iris Diaphragm. Changes N.A. from 0.8 to 1.3.
Part Number 191280.
Iris rotates smoothly and is not frozen like often happens.
Made in Japan.
This has Fluorite in the lens so is excellent for use with a fluorescence microscope.
The iris condenser is also a benefit for use in fluorescence.
Includes plastic canister (not shown).
Condition: Used and in good condition. We guarantee this will work properly.