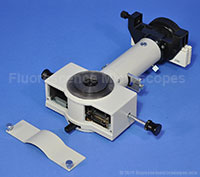 SOLD
ITEM CODE: A109
Shipping Cost: To be determined
Description:
Includes Parts ONLY as shown in photos.
Does NOT include the microscope.
Fluorescence Filter Cubes:
Includes two dichroic filter cube sets. The filters appear to be in great shape.
Cube#1: B-2A, DM510, Nikon, Japan
Cube#2: UV-1A, DM400, Nikon, Japan
General Specifications and Notes:
The slider for the cubes works very well.
Includes shutter.
Includes filter holder. (located just where the head would mount)
Includes iris diaphragm. Iris opens and closes well.
Includes neutral density filters: ND2, ND4.
I have no idea if this works or not. Sold as-is. What you see is what you get.