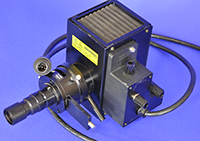 Description:
Nikon HBO 50 Mercury Lamp Housing.
For Fluorescence Microscope
Model C-SHG.
Uses lamp model: HBO 50W/ACL1
Model T1-FM Reflected Light Attachment. This is shown mounted to the lamp housing. This is actually a part of the microscope. I am not sure which model microscope this came off of. It is included.
Made in Japan.
Condition: Appears in good used condition. We have not tested this. You can return it if not satisfied.