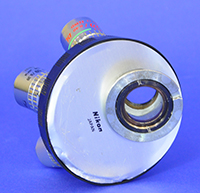 Description:
Objectives with nosepiece from Nikon Diaphot Microscope.
Includes these objectives:
Nikon Plan 20x / 0.40 Ph2. ELWD. 160mm tube length, 1.2mm petri thickness. Phase contrast.
Nikon Plan Fluor 10x/0.30.
Nikon 40x / 0.55 Ph3 DL LWD 160mm tube length, 1.2 mm Petri thickness.
Includes arc centering objective device for centering the arc on a Mercury fluorescence microscope illuminator.
The objectives were too hard to unscrew. You may need to put some solvent in the threads. The objectives show some bite marks where somebody tried to rotate probably with some pliers.
Condition: Rough used condition. Sold as is, no returns