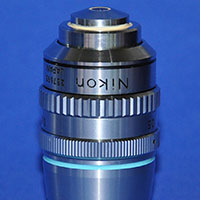 ITEM CODE: L462
Shipping Cost: Free Shipping
Description:
Nikon Plan 50x / 0.85 Oil Immersion, 160 / – Microscope Objective.
Iris Diaphragm.
160mm Tube length for older Nikon models.
This would be excellent for live blood cell analysis using darkfield microscopy. It will work on any typical RMS thread objective nosepiece that uses 160mm tube length. Do not use on infinity corrected frames.
Part #:237693
Condition: Used.