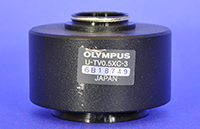 Description:
Olympus 0.5x C-mount Camera Adapter 

Model U-TV0.5XC. 

The glass lens is in excellent condition. No scratches, no delamination, no fogging, no haziness.

The threads are stripped. I show how this connects to a typical C-mount camera. The threads are messed up so it simply slides all the way into the camera. You can still use this adapter to connect your camera to your microscope. But be sure not to let the camera fall off. You might also try Teflon piping tape and see if that helps. You could also glue the mount to the camera.

Camera is not included. It is only in the photo to show how this mount can connect. Only the C-mount is included.

Fits BX and IX Microscopes.

This is an original Olympus, Made in Japan. It is not one of the Chinese copies.
Condition: Lens in good condition. Threads are stripped.