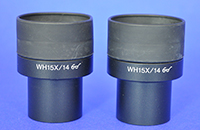 Description:
Olympus 15X Eyepiece Pair.
WH15X / 14.
Includes two eyepieces, one pair total.
Includes rubber eye cupping guards.
Excellent way to increase the magnification compared to a standard 10 X eyepiece set.
Fits both upright and inverted inverted models, UIS1, UIS2.
Olympus part number: 2-U150.
Olympus list price. Year 2018 pricelist: $215 per piece, $430 for a pair.
Condition: Good used condition. Appears to be never used.