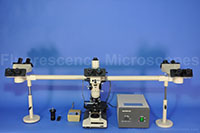 SOLD
MODEL: Olympus Bh2
ITEM CODE: 517
Description:
This system has it all. You have a total of five binocular stations for students and a teacher to simultaneously view the image. You have a epi-fluorescent vertical illumination system. And you have the standard brightfield transmitted light. To top that off, you have a trinocular photography port where camera equipment can be attached.
Objectives: (all marked Olympus, Japan)
4x: DPlan 4x/0.10, 160/0.17.
10x: DPlan 10x/0.25, 160/0.17.
40x: SPlan 40x/0.70, 160/0.17. Part#109948.
100x: A100/1.30 Oil Immersion Lens, 160/0.17.
Plus a Mercury Arc Centering Objective. This device is rare to find. It used to view the arc in the viewing port and simultaneously adjust the mercury bulb for proper centering.
Five Place (quintuple) nosepiece for holding objectives.
Dichroic Filter Cube Spectrums:
Slider has two cubes with filter sets. Two sliders total are included.
Cube Slider #1:
Type: B for Blue
Type: U for UltraViolet
Cube Slider #2:
Type: V for Violet
Type: U for UltraViolet
Note: All filter sets look in excellent shape. Normally used filters get burned out and physically look bad. This degrades the resulting imaging and light transmission. These are in good shape.
Teaching – Student Binoculars:
Teaching Head (Main head at the frame):
WHK 10x/20L. Eyepiece pair. Diopter on both eyepieces. Also diopter on one eyetube.
Student Heads:
The rest of the binocular student heads all have WHK 10x/20L eyepieces and all have one eyetube with a diopter.
Pointer System:
Has superimposed arrow pointer on all binocular heads.
Has separate power supply for pointer system.
Variable light intensity and color filter selector. Movable arrow.
Photography System:
Trinocular port on top for attaching photography and video equipment.
Other attachments could be added to fit a USB digital camera or DSLR digital camera.
Does not include any cameras.
General Specifications:
Koehler Illumination. Field Iris diaphragm.
1.25 numerical aperature light condenser.
Right Hand XY mechanical stage. Operation is smooth and good.
Transmitted light is 6V-20W. Halogen bulb housing is located at the lower back of frame.
HBO Mercury System:
Includes 100W HBO Mercury Arc Bulb.
Lamp types accepted: Osram HBO 100W/2 and USH10 USH 102D.
Includes rear mounted lamp housing for HBO bulb.
High pressure mercury burner power supply, 100W, Olympus Model BH2-RFL-T2. Made in Japan. 100/110/120V, 50-60Hz.
Frame Markings:
Frame is marked 100V/115V. 50-60 Hz.
Condition:
This is a used microscope and sold in as-is condition.
The fluorescence system was tested and performed fine.
Warning:
UV light and Mercury Bulbs are Dangerous! YOU MUST Read BEFORE purchasing!