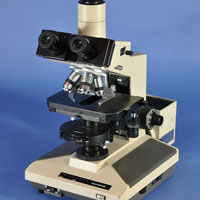 ITEM CODE: 534
Shipping Cost: To be determined
Description:
Olympus BH2 – BHS Phase Contrast Trinocular Microscope.
Objectives:
A4, 160/-. Not phase.
A10PL 10x / 0.25, 160/0.17. Phase.
A20PL 20x / 0.40, 160/0.17. Phase.
A40PL 40x / 0.65, 160/0.17. Phase.
DPlan 100 100x / 1.25 Oil Immersion, 160 / 0.17. Not phase.
All objectives are in excellent condition. We added them to this unit.
Condenser Settings:
Has Phase Contrast Annuli for all: 10x, 20x, 40x, 100x.
Brightfield.
Trinocular Head.
Capable of adding photography equipment.
3-Position pullout lever. Allows all light to eyepieces, all light to camera, or split to eyepieces and trinocular camera port.
Eyepieces:
WHK 10X/20L, WHK 10X/20LH
5-place nosepiece.
Koehler Illumination field diaphragm.
12V-100W Halogen Illumination.
110V only electrical.
Condition:
Used but in good condition. We guarantee this will work properly.