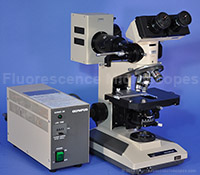 MODEL: Olympus Bh2
ITEM CODE: 527
Shipping Cost: To be determined
SOLD
Objectives: (all marked Olympus, Japan)
4x: SPlan 4x/0.13, 160/-.
10x: DPlan 10x/0.25, 160/0.17.
40x: SPlan 40x/0.70, 160/0.17. Part#109771.
100x: DPlan 100x/1.25 Oil Immersion Lens, 160/0.17.
Six Place (sextuple) nosepiece for holding objectives.
Dichroic Filter Cube Spectrums:
Slider has two cubes.
Cube #1:
Type: B for Blue
Cube #2:
Type: U for UltraViolet
Note: Both filter cube sets look in reasonable condition.
Fluorescence Microscopy:
Includes 100W HBO bulb.
Includes rear mounted lamp housing for HBO bulb.
Includes HBO Power Supply for the 100W mercury arc lamp.
General Specifications:
Koehler Illumination. Field Iris diaphragm.
1.25 numerical aperature light condenser.
WK 10x/20L. Eyepiece pair. Diopter on one eyetube (where the eyepiece goes into).
Right Hand XY mechanical stage. Movement is smooth.
Transmitted light is 6V-20W. Lamp housing is externally mounted on the lower rear of the frame.
Coarse and Fine focusing works well.
Frame Markings:
Frame is marked 100V/115V. 50-60 Hz.
BHT-BHTU
Condition:
This is a used microscope and sold in as-is condition.
Warning:
UV light and Mercury Bulbs are Dangerous! YOU MUST Read BEFORE purchasing!