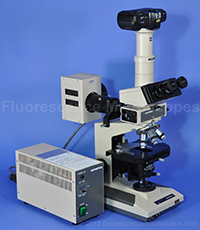 MODEL: Olympus BH2
ITEM CODE: 514
Shipping Cost: To be determined
SOLD
CHANGE FROM WHAT PHOTO SHOWS!:
Photo shows an Aplanat Achromat 1.4 numerical aperature light condenser. This is a special condenser for special use and is rarely used. It is not needed here. This will be replaced with a normal condenser, 1.25 N.A, Olympus part number U-AC. This U-AC is actually a newer condenser that is made for the new BX series but fits fine and works perfectly on the BH-2 line.
Objectives: (all marked Olympus, Japan)
10x: DPlan 10x/0.25, 160/0.17.
20x: SPlan 20x/0.46, 160/0.17. Part# 119231.
40x: SPlan 40x/0.70, 160/0.17. Part#138112.
100x: DPlan 100/1.25 Oil Immersion Lens, 160/0.17.
Five Place (quintuple) nosepiece for holding objectives.
Dichroic Filter Cube Spectrums:
Slider has three cubes. One cube is blank for use with brightfield. The other cubes have filter sets.
Cube #1:
Type: B for Blue
BP 490 nm
Cube #2:
Type: G for Green
BP 545 nm
Note: Both filter cube sets look in excellent shape. Normally used filters get burned out and physically look bad. This degrades the resulting imaging and light transmission. These are unusually good.
Photography System:
Trinocular port on top for attaching photography and video equipment.
Currently, a 35mm film camera is attached and included with the package. This could be removed and a DSLR digital camera could be installed.
General Specifications:
Koehler Illumination. Field Iris diaphragm.
WHK 10x/20L. Eyepiece pair. Diopter on both eyepieces. Also diopter on one eyetube (where the eyepiece goes into).
Right Hand XY mechanical stage. Movement is smooth.
Transmitted light is 6V-20W.
Fluorescence Microscopy:
Includes 100W HBO bulb.
Includes rear mounted lamp housing for HBO bulb.
Includes HBO 100W mercury power supply.
Frame Markings:
Frame is marked 100V/115V. 50-60 Hz.
BHT-BHTU
Special Note:
Note: This unit is missing a small rectangular plastic cover on the left side of the part below the head. It could be covered with anything suitable.
Condition:
This is a used microscope and sold in as-is condition.
Warning:
UV light and Mercury Bulbs are Dangerous! YOU MUST Read BEFORE purchasing! Click this link.
Safe With UV Light