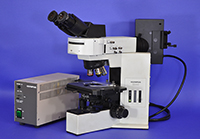 ITEM CODE: SKU-040
Model: Olympus BX40
Shipping Cost: Free USA Shipping.
Main Features:
Frame Model: Model BX40F-3.  Made in Japan.

Objective Nosepiece 5-place for up to 5 lenses.

4-Position Reflector Cube Turret.

30W halogen lamp housing.

Abbe Condenser 1.25 N.A.  U-AC.

Left hand XY stage with slide movement.

Eyepiece Pair 10X/22.  One is a Helicoid that is adjustable. Includes a pair of NEW cupping rubber eyeguards that helps to block light from the sides for higher intensity specimen imaging.

Original Olympus 3mm hex screwdriver.

Included all needed power cords.

Includes 6V 30W spare bulb

.
Objective Lenses:
4X UPlanFl 4x / 0.13, infinity/-.

10X UPlanFl N 10x / 0.30, infinity/-. UIS2. FN26.5.

40X Plan 40x / 0.65, infinity/0.17.
Included Filter Cubes: 
FITC cube: Produced sky-blue on the slide, bluish and greenish in the eyepieces. Gave very good fluorescing results. Manufactured by Chroma.

Multiband cube: Produced white light on the slide, with color red and other colors in the eyepieces. This cube did not produce very good imaging. It may be better if matched more appropriately to the Fluorphore stains. It showed minimal wear.

Includes light blockers on the empty spaces. This is important to prevent harmful UV light going into the eyepieces.
Fluorescence System:
Mercury power supply.  External.  100W.

HBO lamp housing. U-ULS100HG. With Mercury bulb.

Fluorescent rotary turret with positions for up to 4 dichroic cubes.

Vertical Illuminator with Shutter, Field Stop, Aperature Stop, centering for FS and AS, and slot for optional neutral density filters.
Comments and other Notes:  
This microscope is in fine condition and works well.

This is a high quality Olympus (Made in Japan) optical instrument.  

Volt Switch on rear of frame.  100-120 / 220/240.

HBO external power supply is 110 V only. If you need 220 V, let us know and we can provide a solution for you at additional cost.

Travel lock stop for focusing. This protects the slides.

Course focus tension adjustment knob.

Preset illumination button.
Testing Results:
This microscope was fully tested.  Results are as follows:

All functions were found to be in proper working order.

Brightfield – Koehler illumination was set properly, with all adjustments and centering being properly achieved.

Incident Reflected Fluorescence – HBO Bulb was properly centered obtaining bright, clear, and uniform illumination distribution across the complete field of view.

Fluorescing Achieved – Excellent fluorescence images were obtained using the FITC cube.
Optional Accessories:
Other objectives. We have a wide variety of objectives to select from.

We can supply brand new replacement 100W HBO Mercury Bulbs and Halogen bulbs.

Brand new Chroma hard coated filter cubes with lifetime warranty may be added.  Cost is USD $750/set for the dichroic filter (emission filter, dichroic mirror, barrier filter) including the blank cube.
Price Comparison:
When comparing our price to others, keep in mind these things:

We are including a one year warranty, money back guarantee, and free shipping that are value added additions not given by most resellers and should be added to the value.

  
User Manual and Instructions: 
Upon purchase, we will email links to the user manuals / instructions.