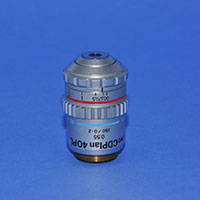 Description:
Olympus CDPlan 40x PL
0.55 N.A Numerical Aperture
160 Tube Length
Long working distance. This is used for looking through the bottom of a petri dish and is rated for use with 0 to 2 mm vessel thickness.
Phase contrast.
Made in Japan.
Condition: Great condition. We guarantee this will work properly.
Includes plastic canister (not shown).